March 01, 2022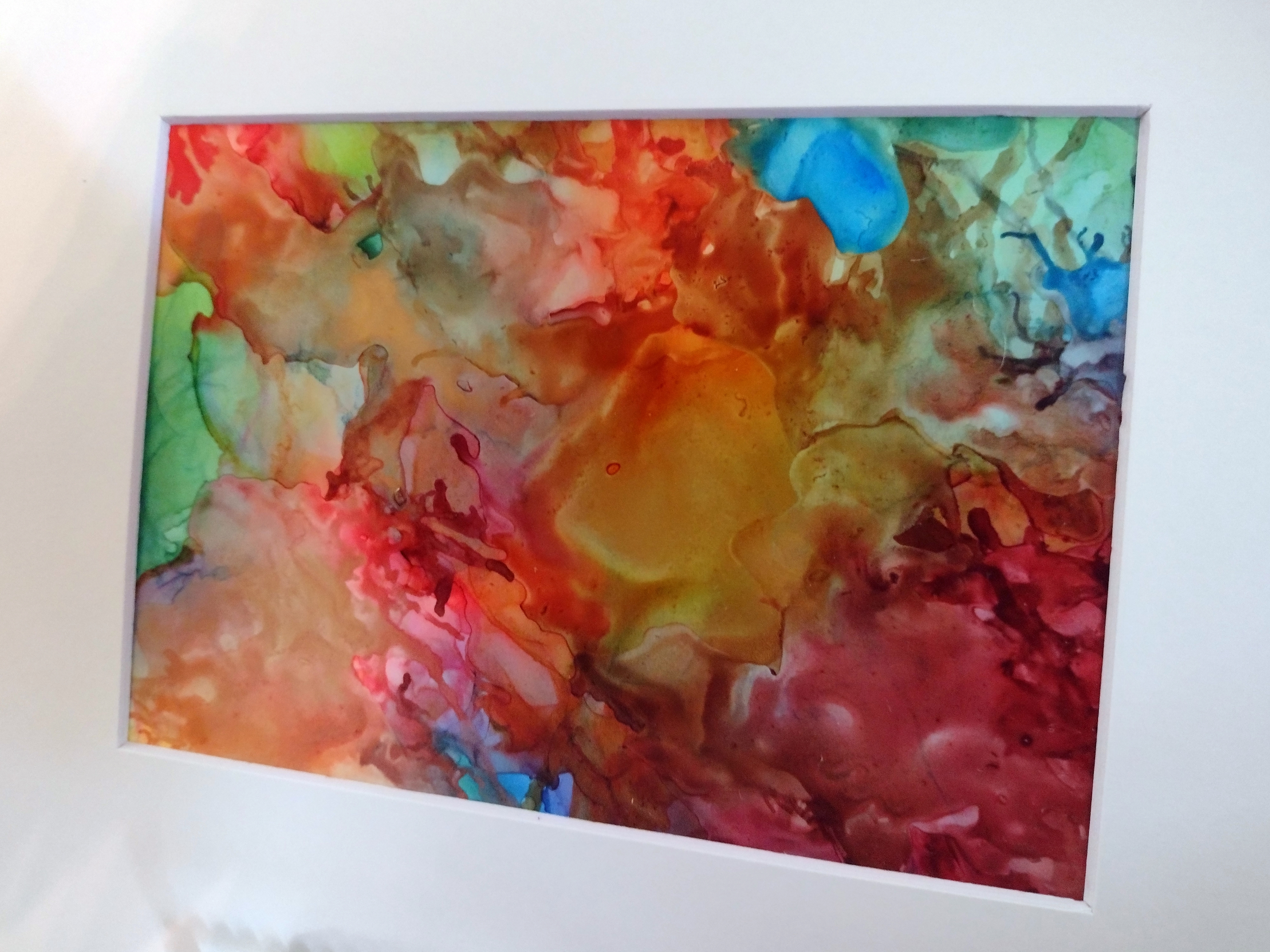 You may have noticed that my stained glass store is now also featuring some alcohol ink and acrylic paintings, trivets, and suncatchers!  This is a new medium I'm working with and absolutely loving.  It allows me to create pieces that are just as unique and colorful as my stained glass (while giving my hands a little break from the rigors of stained glass work).
If you're not familiar with alcohol inks, they are concentrated dyes that are combined with alcohol instead of water, oils, or acrylic like other types of paint.  They work best on non-porous materials like tile, glass, and specially treated paper call Yupo and Dura Lar film that allows them to flow more easily.  They dry very quickly when the alcohol evaporates, but can be reactivated and reworked repeatedly by adding more alcohol (isopropyl alcohol, not liquor—though drinking a little liquor while painting never hurts either and is not nearly as dangerous as drinking while stained glassing…:-)
Acrylic paint pouring is a little different as the paints layer and mix differently than the alcohol inks, and work best on rougher surfaces like stretched canvases and wood.
There are many different techniques that can be used to apply and work with both, just as there are with other types of paint.  My favorite so far is using an airbrush to manipulate them into fluid, overlapping patterns, and adding additional touches with paint brushes and blotting tools.  I love abstract design and this medium is perfect for creating unique abstracts.  I've learned not to try to start out with a specific design in mind, as it always changes drastically by the time I'm done.  Instead, I just decide on the color pallet and see where the design leads me as I apply, move, blend, and layer the inks or paint until I'm satisfied with the result.
After the inks dry, I apply spray varnish to seal them which keeps the inks from reactivating, and then finish them off with a UV protectant clear coat to keep them from fading.  The trivets are clear coated with a UV and heat resistant protective clear coat so they can hold up to hot dishes.  The acrylic paints don't fade like the alcohol inks do, so I only apply an acrylic top coat to the ones I feel would look better with a glossier finish.
All of my fluid art pieces can be seen under the "Fluid Art Paintings' section in my shop at https://www.stainedglassyourway.com/catalog/alcohol-ink-art.  I hope you enjoy them as much as I enjoy creating them!